Blog
Dinsdag 19 januari 2021
*...BE KIND ...* Minimalisma SS21 Collection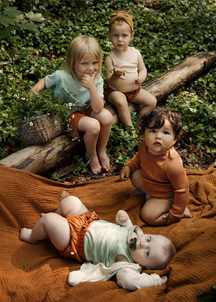 'BE KIND'
ABOUT SS21 COLLECTION
Nordic Colour Palette

Colours reflect small muddy feet and sparkling eyes after a day well spent under the soft tree leaves. Tones are earthly ranging from amber brown to a golden rooibos.

Foam and blue mirror the colour range seen through the leaves of the forest when looking towards the sun on the clear blue sky. Nuances of rose echo the soft sunset.
Responsibility
All of the clothes are natural, as it's important to us to respect the environment and nature which belongs to our children. In a world where disposable children's clothing has become the norm, minimalisma tries to create a high quality and eco-friendly alternative.
- Fair and safe conditions for textile workers
- Focus on protection of the environment during the production process
- No usage of toxic chemicals
- Sustainable materials incl. animal welfare
Shop de nieuwe Spring Summer Collection 'Be Kind' online in onze webshop of kom langs in de fysieke winkel te Brugge, België.