Blog
Maandag 19 augustus 2019
*... Before the lights get low ...* MINIMALISMA Autumn/Winter 2019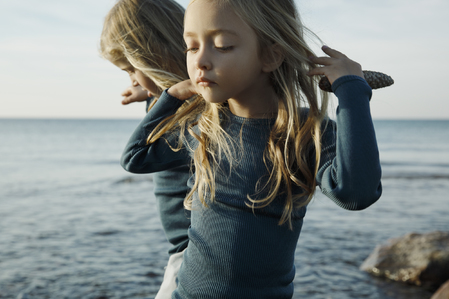 "Before the lights get low"
A blue kite is dancing with the arctic winds while trying to follow the laughing kids on the beach. The fresh ocean air leaves sparkling eyes and red cheeks on their faces. This time in the North is like no other and everybody is eager to enjoy the few hours of daylight before the lights get low.
Inspired by the Nordic lights, the Autumn/Winter 2019 collection offers carefully designed high-comfort styles suitable both for outdoor fun and indoor snuggle. Pure and all-natural materials are the essence of the collection, timeless and comfortable.
Colours are inspired by the crispy clear autumn sky and the red and burnt tones of the forest as the setting sun plays with the leaves. A palette of burnt red tones and browned colours ranging from fudge to golden yellow echo a walk through the autumn forest. Intense hues of blue call to mind the clear blue skies of the north as the sun still stand high in the sky.
Before the lights get low,
a new collection of natural luxurious basics.
Enjoy!
Ontdek de herfst/wintercollectie 2019 "Before the lights get low" van Minimalisma in onze fysieke winkel te Brugge, België of shop online in onze webshop www.lunabloom.be