Blog
Donderdag 14 januari 2021
*... FOR PRESIDENT ...* Bobo Choses SS21 Collection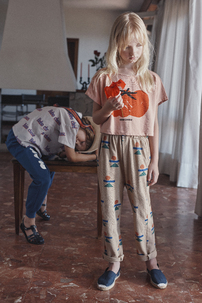 'FOR PRESIDENT'
ABOUT SS21 COLLECTION
Adults are having kind of a hard time making the world a better place to live in. What would children do if they were president? What would a world run by children be like? For President by Bobo Choses presents the most convincing party platform in the history of politics. We are glad to present to you For President, the new Spring Summer 2021 Collection.
The colour palette mixes soft and natural tones, such as ecru, toasted, light grey, anthracite, water green, Mayan blue, mauve, pale yellow and Sunrise pink with brighter ones, like fuchsia, curry, light green and deep blue.
At Bobo Choses we go for unisex clothing. Garments are rather wide and comfortable and can be easily combined in multiple ways.
88% of SS21 cotton yarn is organic *GOTS certified. 92% of the cotton used in SS21 Baby collection is organic *GOTS certified. 98% of the SS21 production is made locally (83% Spain, 15% Portugal) and around 80% is produced no more than 20km away from our headquarters.
Shop de nieuwe Spring Summer Collection 'For President' online in onze webshop of kom langs in de fysieke winkel te Brugge, België.