Blog
Woensdag 03 maart 2021
*... FUB 2021 SPRING SUMMER COLLECTION ...*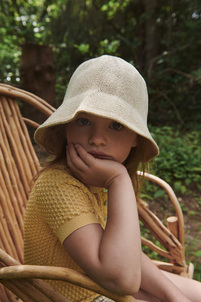 Instead of dressing up or dressing right, FUB wants to dress kids for life.
Founded in Denmark, FUB is anchored in the minimalist aesthetics of the North and inspired by the Scandinavian knit heritage in both shape, stitches and colours.
The collections offer contemporary styles for both kids and babies in natural materials, created with special attention to details and fine craftsmanship. The FUB collection presents a playful range of high-quality knitwear in different weights and structures with refined and considered details.
This spring/summer collection is made from 100% GOTS certified organic cotton and is free from harmful chemicals. At FUB they value working only with the best materials to ensure durability and perfection, and they strive to create knitwear that will be loved and used for many seasons. When buying a FUB product you can be sure to get a clean, contemporary, comfortable and long-lasting piece of clothing.
Kom langs in onze fysieke winkel te Brugge of ontdek deze mooie collectie van FUB in onze webshop.